Home » National » Mumbai Police arrest 39-year-old man on charges of harassing 'Dangal' actor Zaira Wasim
By Fast Kashmir on 11/12/2017.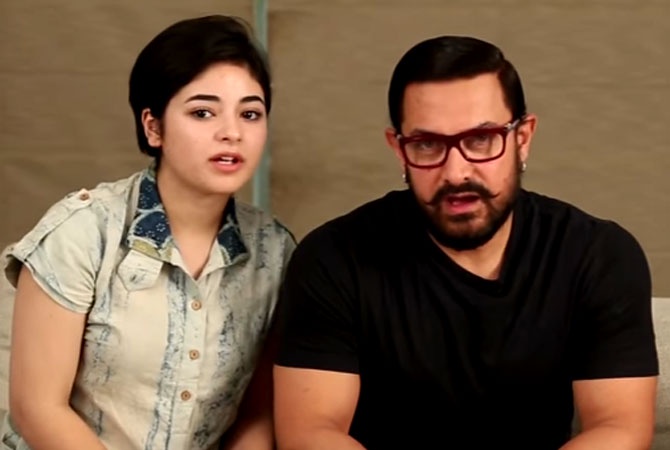 Mumbai, Dec 10: Mumbai Police on Sunday arrested the man who allegedly molested a teenage Bollywood actor onboard a Delhi-Mumbai flight.
39-year-old Vikas Sachdeva was arrested by the Sahar police on Sunday night in connection with the molestation of a teen actor in an Vistara Airlines flight.
Sachdeva is placed as a senior executive with an entertainment company in Mumbai. He has been charged under the IPC and Protection of Children from Sexual Offences Act (POCSO) and will be produced before the Andheri magistrate court on Monday.
Earlier in the day, the actor had taken to Instagram to allege that a middle-aged co-passenger on board the Vistara flight had harassed her sexually.
In her Instagram live-video post, the National Award winning Kashmiri actor said, "I was in a flight travelling from Delhi to Mumbai today and right behind me one middle-aged man who made my 2-hour journey miserable. I tried to record it on phone to understand it better because the cabin lights were dimmed, I failed to get it. It was all chill till I felt somebody brushing against my back while I was half asleep. I ignored it the first time. Blamed the turbulence for it. Until I woke me up to this PLEASANT SIGHT of his Beautiful foot rubbing my back and neck. Guess he couldn't sit like a civilised human being and placed his foot on my armrest while he's fully PHELAOED his body on his seat."
After the video started to trend on Sunday, the Mumbai Police initiated a probe. They recorded the actor's statement and subsequently lodged an FIR.
The Civil Aviation Ministry has sought a report on the incident. Vistara Airlines has apologized to the actor and said it was carrying out a detailed investigation.
Via, times of India